Kandi Burruss can be called an Empress now, ruling over her empire! From Intimate Toys, StagePlays and ofcourse her number one hustle, Songwriting. Go Girl!
Kandi Burruss
of
The Real Housewives of Atlanta
was all smiles opening night of her musical stage play,
Kandi Burruss & Todd Tucker Present: 'A Mother's Love,
' which premiered at Atlanta's Realto Theatre Friday night (November 22, 2013).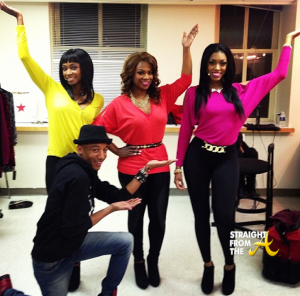 The 'autobiographical' stage play is rumored to be a part of the season 6 RHOA finale and just about all of Kandi's 'housewife' co-stars showed up to show support.

The entertaining musical featured an all-star cast that included Eddie Levert, Shirley Murdock, Q. Parker (112), Funky Dineva and D. Woods (Danity Kane), Porscha Stewart